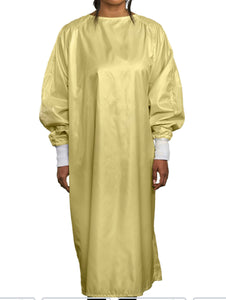 Arrow Safety Canada
Level 3. Washable reusable isolation gowns. $15/pc.12 pcs/box (OSFM)
Regular price
$180.00
Sale price
$216.00
Unit price
per
($15.00 ea)
Canada Adopts Sustainability by Using Reusable Isolation Gowns
A new movement toward sustainable practices in infection control is taking hold across Canada. Reusable isolation gowns in Canada are now available in Canada's healthcare industry, which is a significant step toward a greener future. These ground-breaking gowns are provided by Arrow Safety Canada and combine reliable protection with consideration for the environment.
Disposable isolation gowns have long added to medical waste, which raises concerns for the environment. Reusable isolation gowns are an answer provided by Arrow Safety Canada.
Washable Isolation Gowns Available in Canada Now for Elevating Protection
Arrow Safety Canada introduces a breakthrough in protective wear - washable isolation gowns in Canada. These gowns, which redefine safety standards, combine security, comfort, and sustainability to meet the demands of contemporary healthcare.
SOLD BY THE BOX of 12 pcs. 50% off clearance price. 
DISCOUNTS APPLICABLE TO LARGER ORDERS OF 100+ pcs, CALL OR EMAIL TO INQUIRE:
Phone: 1-833-448-9380
Email: sales@arrowsafetycanada.com
99% polyester/ 1% carbon
3" quick dry stretch knit cuffs
Gown length 45"/ Sweep 65"
Fluid resistant
Antistatic 
Overlap wrap around style to provide excellent coverage 
Machine washable and dryer safe - 75(+/-) Cycles
Soft Microfiber one size fits most
---
Share this Product
---