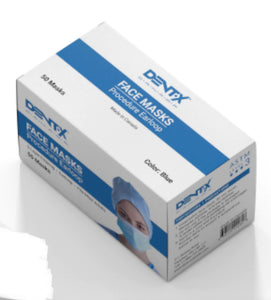 Arrow Safety Canada
Dent-X LEVEL 3 ASTM BFE 98%.MADE IN CANADA.50pcs/box.Price Drop
Regular price
$20.00
$0.00
Unit price
per
The Strength of Level 3 Masks for Exceptional Protection
The Level 3 mask is a strong defender when it comes to preserving your health and well-being. When compared to less protective options, this advanced mask offers a significant improvement in protection. The Level 3 mask protects you from a variety of airborne particles and contaminants thanks to its multi-layered design and high-filtration materials.
3 Ply Face Masks: The Science behind Them
Delve into the science of protection with the 3 Ply face mask. This mask, which is made of three different layers, combines comfort and effectiveness. While the middle layer serves as a filter, catching even the smallest airborne threats, the outer layer deflects moisture and particles. Last but not least, the inner layer is still gentle on your skin. This mask isn't just about safety – it's about smart engineering.
Specifications:
Graphene free.
Materials = Outer Layer: Polypropylene non woven fabric, water repellent 30gsm
                  - Middle Layer: High efficiency blown melt filter 25-30gsm
                  - Inner layer: Soft, skin-friendly, Polypropylene non-woven fabric 30gsm
                  - Ear Loop: Urethane Elastic Fiber length 18cm
                  - Nose clamp: Iron wire with plastic coasting 10.5cm 
Size = 17.5*9.5cm
Color = Blue 
ASTM BFE = 98%
Certificate = CE EN 149 
Grade = FFP2 
---
Share this Product
---